2023/10/06
Bolta introduces Tuscan Plaster, Willow and Willow Weave.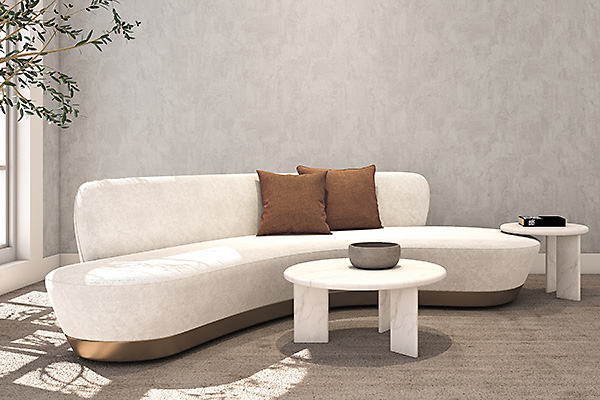 TUSCAN PLASTER
Everything old is new again in the Tuscan Plaster series. Influenced by aged, hand-crafted structures that still stand tall today. This series pays tribute to dimensional and tonal variations of a real plaster finish and a touch of Old-World charm in modern interiors. Ranging in eleven colorway options that exude the warmth and beauty of Italian countryside, this rich color pallet evokes the essence of the region's landscape, architecture, and cultural heritage. View swatches.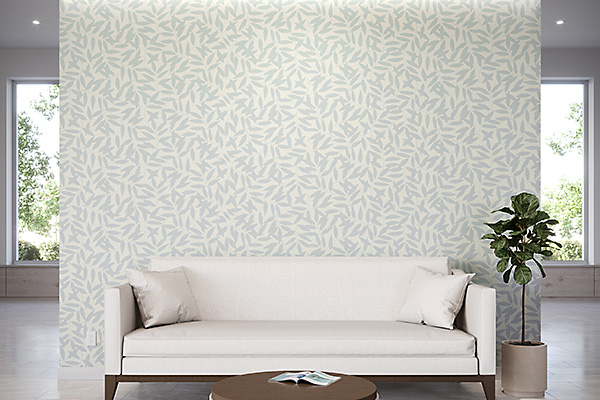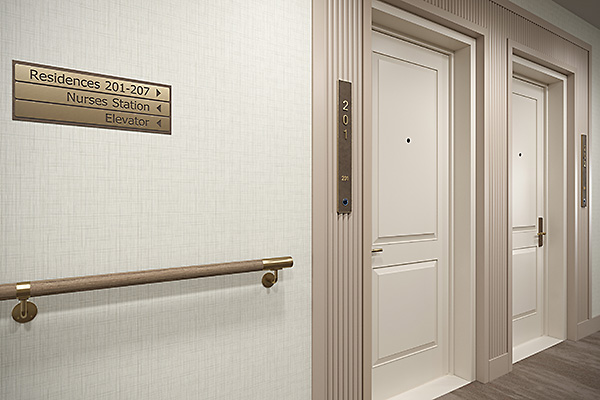 WILLOW & WILLOW WEAVE
Find solace amidst the captivating duo Willow and Willow Weave that unites nature and texture, leaving a lasting impression. Willow's whimsical pattern of shadowed leaves cascades across the walls, while Willow Weave's textured charm provides a harmonious backdrop. An artfully designed color pallet evokes positivity and calmness in soothing environments allowing healthcare interiors to echo with vitality. For a touch of opulence, colorways Stormy and Midnight Glow enhance the pallet with shimmering metallic tones that make a statement in hospitality design.
View Willow swatches.
View Willow Weave swatches.
| | | |
| --- | --- | --- |
| Tuscan Plaster Video | | Willow and Willow Weave Video |
| | | |
---
2023/04/24
Bolta introduces Tahitian Tapa and Tahitian Linen.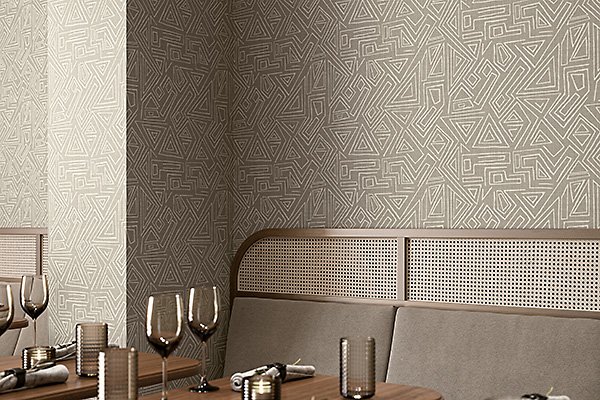 TAHITIAN TAPA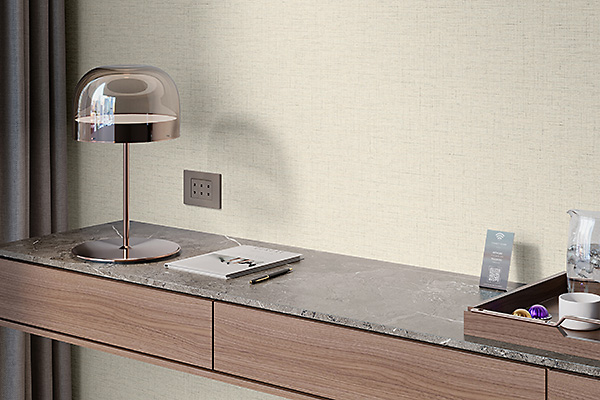 TAHITIAN LINEN
It is no surprise that organic shapes and soft lines sit atop all design trends as the world around us also mellows and connects more with nature. Tahitian Tapa's painterly, perfectly imperfect fine lines derive from The Islands of Tahiti, where the mountain peaks ascend dramatically inspiring artists and designers alike. Celebrating this paradise on earth, Tahitian Tapa and Tahitian Linen pay through a carefully curated color palette. For Each Tahitian Tapa, there is a Tahitian Linen that compliments.
View Tahitian Tapa swatches.
View Tahitian Linen swatches.
---
2022/12/19
Bolta introduces All About Geo and All About Big Geo.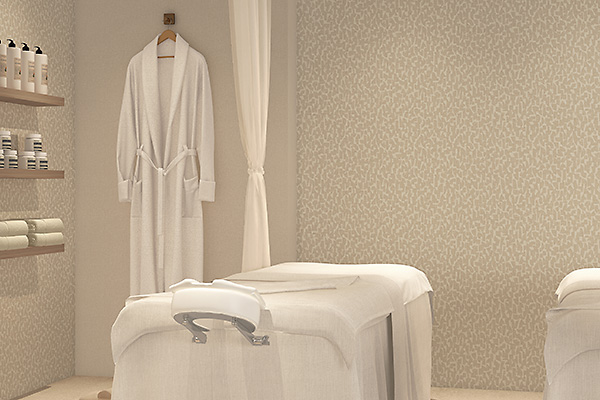 ALL ABOUT GEO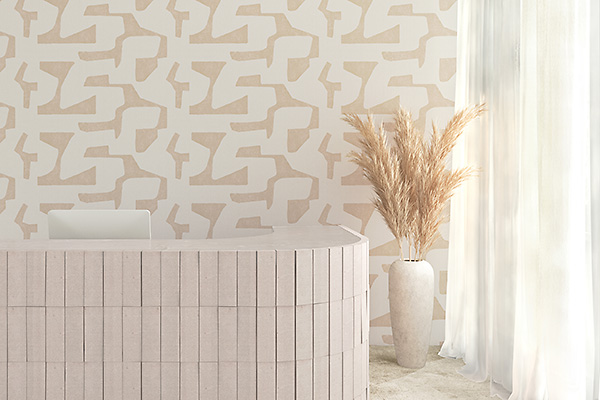 ALL ABOUT BIG GEO
New patterns, All About Geo and All About Big Geo, are the ideal print partners to All About Linen's crisp, convincing texture. The return of curved elements in furniture and architecture to today's design toolbox inspired these softly-structured silhouettes. Sized to add "just right" visual impact, All About Geo balances the rigidity of geometric design with the fresh perspective of playfully curved shapes. The subdued color combinations of Chickpea and Pale Grey offer a subtle arrangement, while the bold graphic of Black & White or Royal Blue makes the pattern noteworthy. The grand scale of All About Big Geo emphasizes the meandering organic movement of these amorphic shapes; soft trending colors like warm Calming Cream, Blushing, or glamourous Pitch-Black all make for quite a statement.
View All About Geo swatches.
View All About Big Geo swatches.
---
2022/03/21
Bolta introduces Weathered Metal and Fused.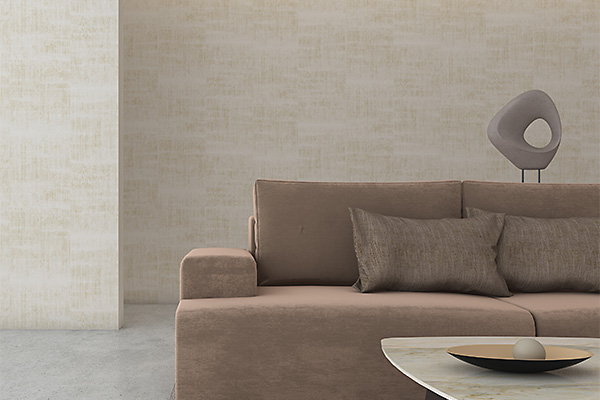 WEATHERED METAL
Weathered Metal, inspired by the natural aging of exposed materials, captures the rawness of this humble material. Experience this pattern through rich tones, industrial flavor, and large-scale drama. The seven colorways emphasize metallics and sophisticated neutral hues of this authentic expression of the glamorous axis of raw. View swatches.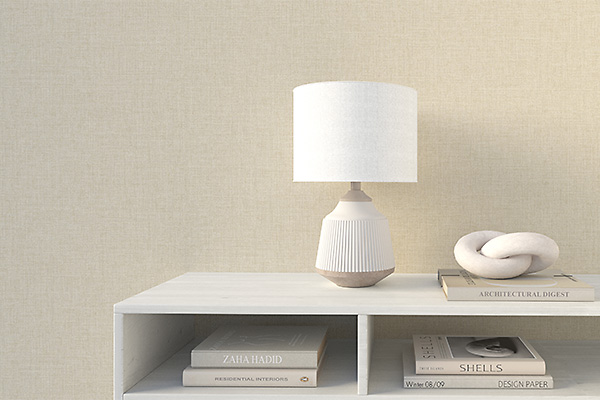 FUSED
Fused mimics the delicate layers that create the intriguing arrangement of sediment rock. A hint of metallic captures the fine details of salt crystals trickled throughout the compressed material. This sophisticated pattern offers a range of colorways from cool neutrals to warm, earthy clay tones. View swatches.
---
2021/07/15
Bolta's Interactive Linen List Flipbook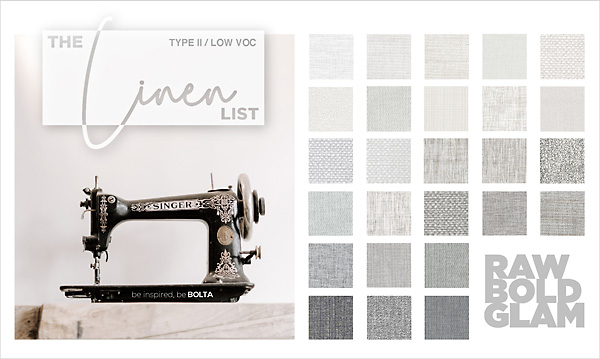 Lean into the lovely linens of BOLTA with the Linen List! 
Navigate BOLTA's three design personas: RAW, BOLD, GLAM through the lens of the collection's foundation; natural fabric-like surfaces. From crisp, finely woven looks too chunky hand-loomed textures and everything in between, we have all your linen needs covered! The Linen List is a skillfully curated collection of diverse linens, including scores of warm and cool neutrals as well as a full range of accent colors to fill your customers' every desire.
be inspired, be BOLTA
View Bolta's Linen List Flipbook.
---
2021/03/06
Bolta introduces Grate Expectations, Ikat's Meow and Pinstripe Hype.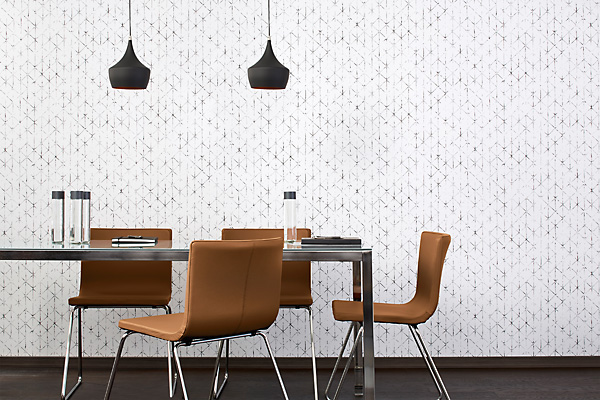 GRATE EXPECTATIONS
Clean graphic lines… we can't get enough! Find a diamond-shaped, open grid design in Grate Expectations. This large-scale contemporary pattern features a distressed texture that can be seen in the palette of 10 modern neutrals and accent hues. View swatches.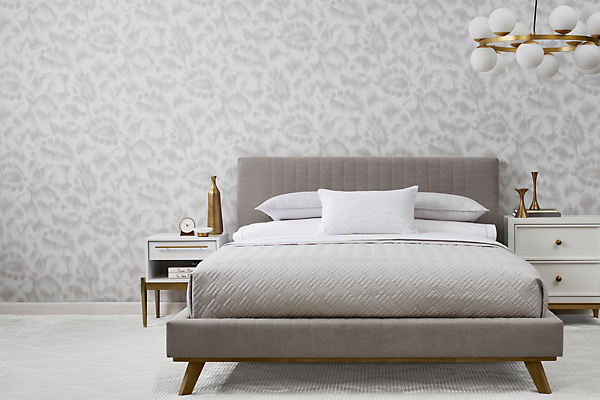 IKAT'S MEOW
Our playful ikat design, is the "Ikat's Meow!" Lively paint strokes give energy to our modernized version of this traditional pattern. 8 monochromatic or vibrant colorways can change the mood from calm and serene to cheeky and fun. View swatches.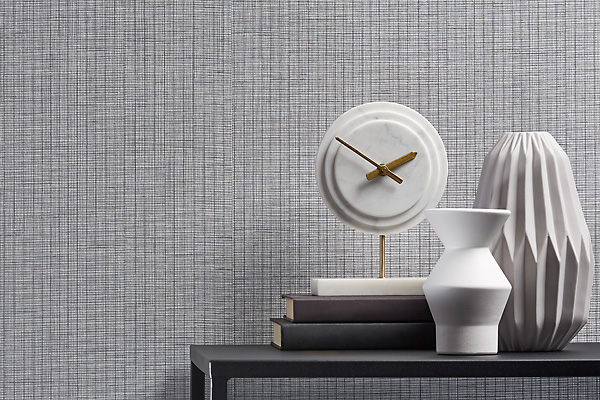 PINSTRIPE HYPE
Pinstripe Hype, that's what. Vintage textures are reappearing with a modern menswear influence. Contemporary neutrals span from white, grey and charcoal to warm beige, taupe and russet in the 21 color offering. View swatches
---
2020/03/20
be inspired, be BOLTA introduces a new wallcovering experience.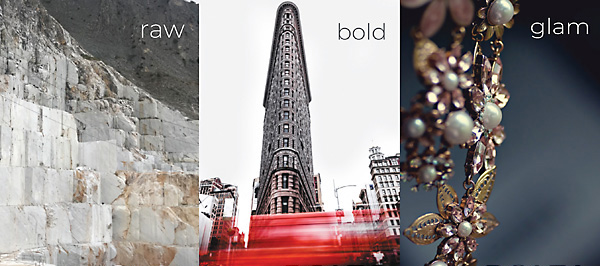 Encompassing the essence of the collection is the thoughtfully curated RAW, BOLD and GLAM design personas.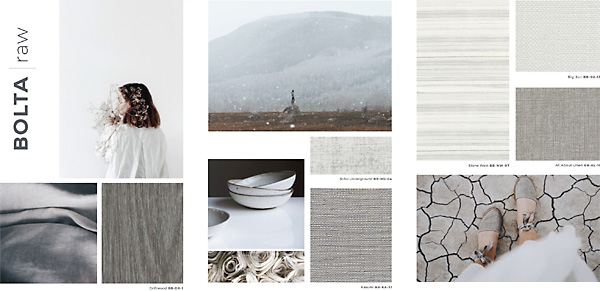 RAW
Raw is unrefined, imperfect, and authentic. A foundation of easy neutral hues, layered and mixed with plenty of texture. Raw feels perfectly imperfect, natural and offers a tactile sensibility rendered simply. Raw is living materials, soothing colors, and textural finishes.
BOLD
Bold is strong, graphic, and dynamic; it arouses the senses by asking you to take a risk. Clean and structured graphics create punch that gives you that fun factor. Bold is the drama of black and white, a large graphic pattern, or a striking color.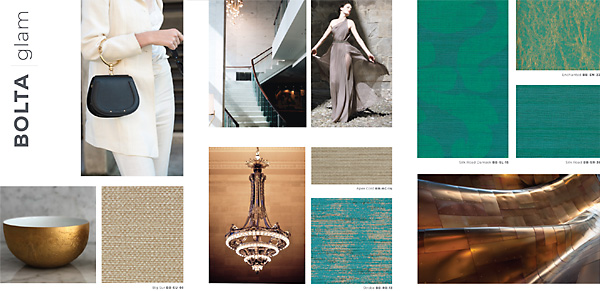 GLAM
Glam is quietly refined, slickly polished, and happens when you mix the unexpected with confidence. It is the partnership between rich metallics, unexpected combinations and luxe finishes. Glam is the finest of textures, the elegance of reflective surfaces or rich, surprising color combinations.
Depending upon the color, many patterns blend seamlessly into multiple trends, satisfying your every mood.
These trends are reflected throughout Bolta's wide range of designs and in the 5 new pattern introductions.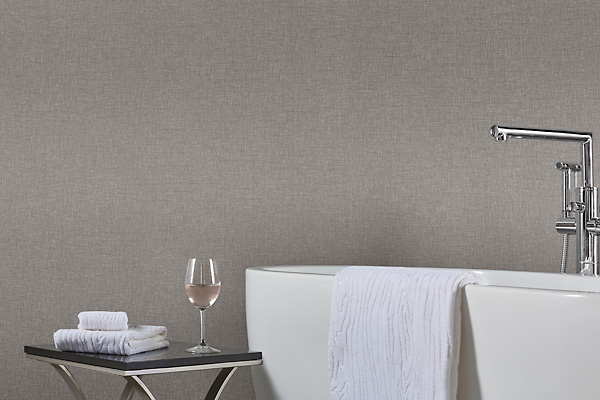 ALL ABOUT LINEN
All About Linen mimics a refined textural fabric that can be seen at a distance. Its extended color line features 32 options. View swatches.
A new emboss is featured in 3 new Bead patterns.
BEAD BARE

Bead Bare showcases a textural matte option in 18 colors.
View swatches.

BEAD BLING

Bead Bling takes it to the next level with a metallic glaze on its 9 colorways.
View swatches.

BEAD IT!

Bead It! provides simple elegance with 12 overall metallic and 3 matte hues.
View swatches.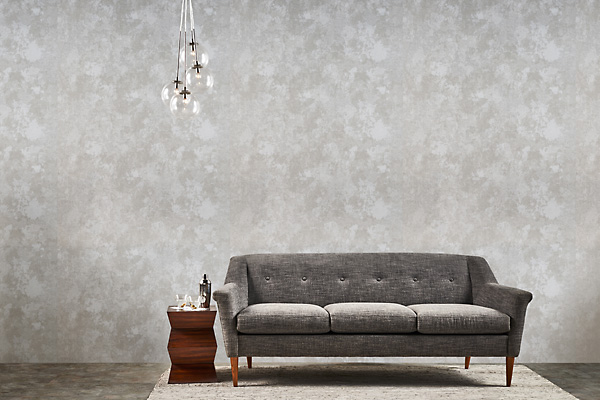 TURN TO STONE
In Turn to Stone you may see mottled stone or cosmic effects. This large-scale, organic design presents 6 out-of-this-world colorways, some highlighted with a light touch of metallic. View swatches.
be inspired, be BOLTA
---
2019/04/04
Bolta introduces Go with the Flow, Kasumi Glam and the refreshed Kasumi.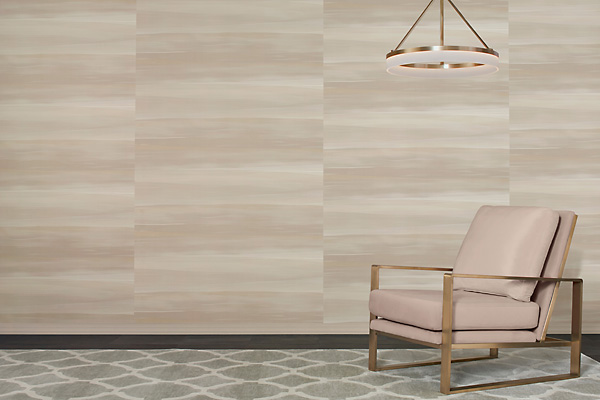 GO WITH THE FLOW
Go with the Flow embodies the ethereal essence of a warm breeze, sea currents and sweeping sands. Tie into nature with the restful state of flowing motion. Subtle variations in color are present in the 6 tranquil, monochromatic hues of this large-scale design. View swatches.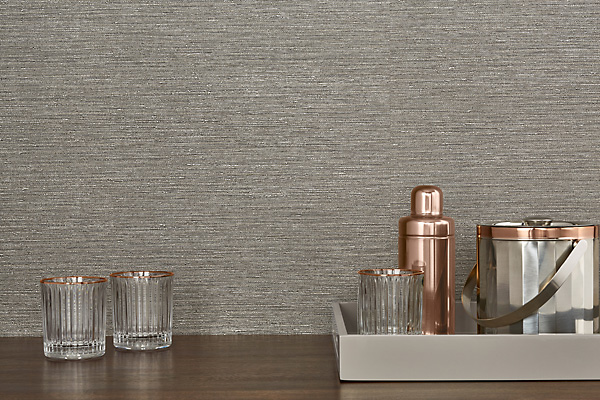 KASUMI GLAM
Kasumi Glam is the dazzling version of its coordinate, Kasumi. Metallic touches, in the 13 hues, add the sparkle to your little black dress; because once in a while, it's time to put your diamonds on. View swatches.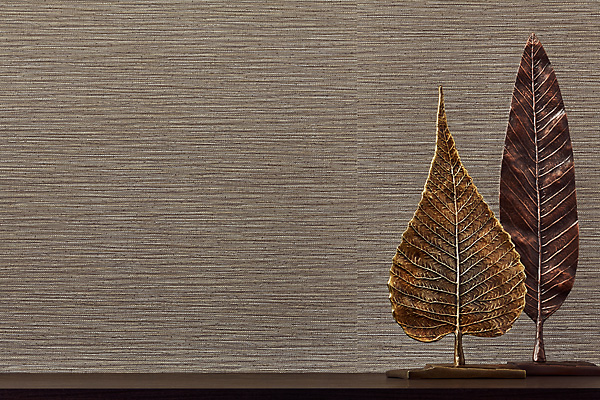 KASUMI
Kasumi is the beauty of classic grasscloth with a contemporary palette…time to take another look! The subtle mix of color and heavy emboss offer a realistic ambiance throughout the 19 colorways. View swatches
---
2018/10/22
Rugged meets refined in Big Sur Block, Big Sur and Well Suited by Bolta Wallcovering.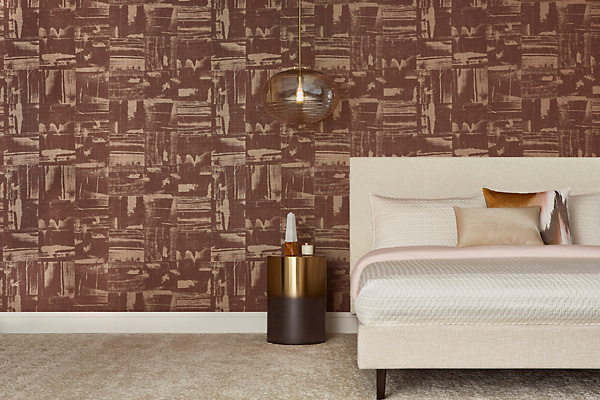 BIG SUR BLOCK
Mimicking a seaside cliff along the California coast, Big Sur Block is difficult to miss. This large-scale design is as scenic as the mountains rising from the Pacific. Redwood, Ewoldsen Trail and Cove are a few of the 7 colors that coordinate with Big Sur. View swatches.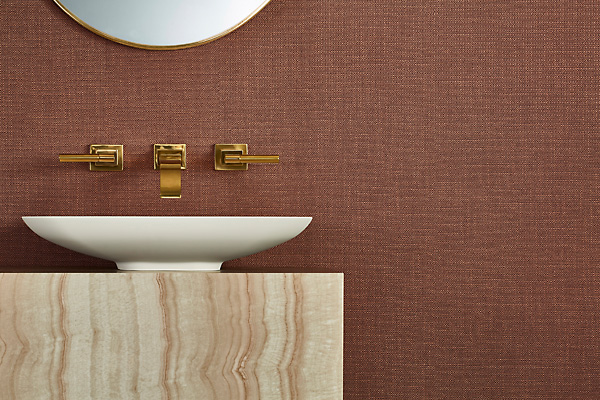 BIG SUR
Big Sur lives up to its name sake. This chunky grasscloth was inspired by rugged sections of the Route 1 coastline. Sure to provide stunning view, 24 colors such as, Cali Sun, Carmel and Rocky Point, pair with Big Sur Block. View swatches.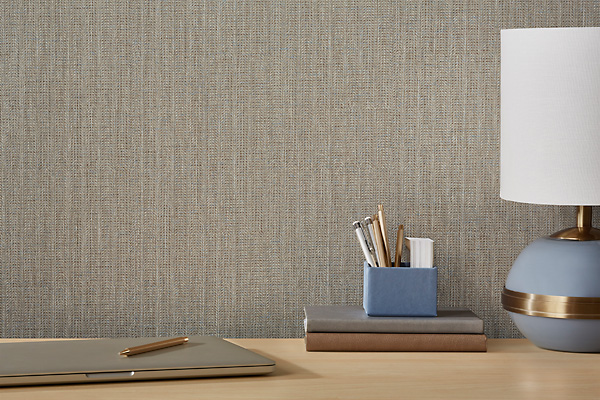 WELL SUITED
Adjacent diagonal lines come to a point in Well Suited. Capturing the menswear influence, this herringbone texture is sure to win best dressed. The pattern debuts with 13 tailor made hues ready for the runway. View swatches
---
2018/09/17
Reimagine Geometry with Balancing Act, Tipping Point and Vertex by Bolta Wallcovering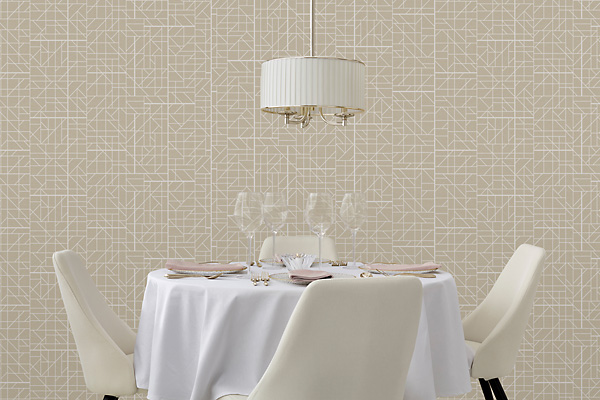 BALANCING ACT
Inspired by mid-century graphic fabric, Bolta's new statement, Balancing Act, features squares and angles rooted in geometry. A mix of matte and metallic can be seen in the 18 neutral and bright colors. View swatches.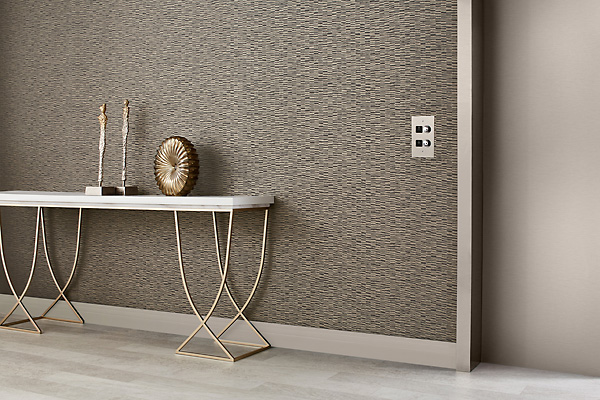 TIPPING POINT
Tilled and toppled rectangular shapes from deconstructed buildings inspired Tipping Point. The mid-scale design is highlighted by a textural emboss, adding richness to the 18 Hues which include light, metal-toned and deep hues. This pattern is great for spaces needed a hint of pattern such as bathrooms and corridors. View swatches.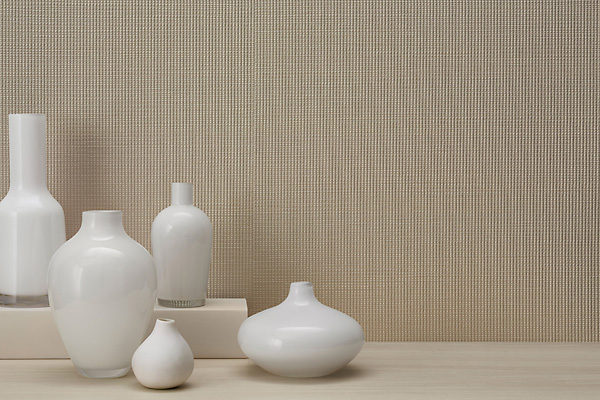 VERTEX
Explore the third dimension across the myriad of peaks, boxes and folds in Vertex. Resembling a chunky fabric, this dimensional texture offers a full range of 24 hues that blend with both Balancing Act and Tipping Point. View swatches
---
2018/01/02
Bolta introduces an organic series- Wicked Woods and Wicked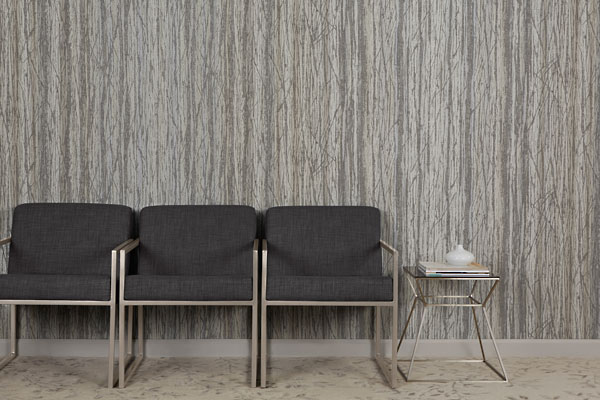 WICKED WOODS
Take a walk in a dimly lit forest with Wicked Woods. This nature-inspired, large-scale organic design features underlying colors mimicking light reflecting through the trees. Atmospheric effects can be seen across the 9 colorways including Good Witch, Moonlight and Black Oak, that coordinate with its linen companion, Wicked. View swatches.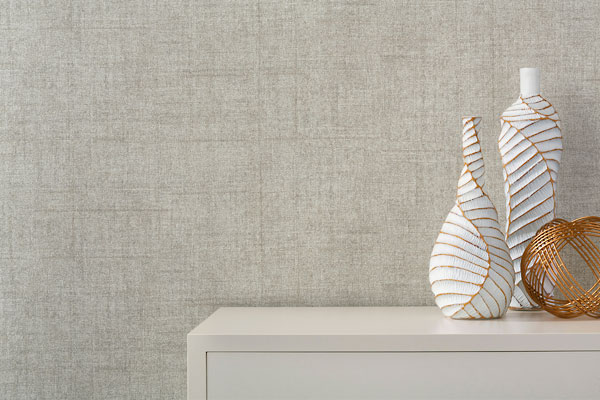 WICKED
Wicked is not your classic linen! Resembling raw linen, strong slubs expose unexpected textural dimension. Clean colors and complex neutrals, such as Oz Dust, Dandy Lion, Toto-aupe and Tin Man, pair with its evil twin, Wicked Woods. View swatches.
Bolta Wallcoverings first ARTISTE pattern is revealed.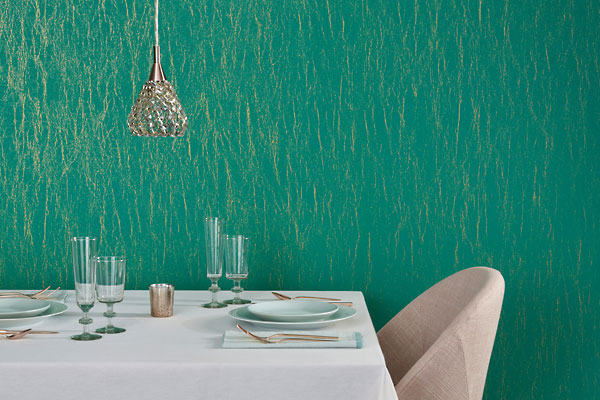 ENCHANTED
ARTISTE
Bolta unveils a new category of artisan-quality, layered wallcovering called ARTISTE, the French term for craftsman. This innovative process reveals a hand-crafted look, with multi-tonal and strong dimensional qualities. Exceeding Type II performance standards, ARTISTE exemplifies beauty and durability.

Glistening metallic peaks through a matte finish in Enchanted. Whether you see aged leather or graceful lightening streaks, Enchanted is sure to leave you spellbound, with its artisan appeal. Be mesmerized by the luxurious reflective qualities in all 18 hues. View swatches.
---
2017/10/10
Global influences in Bolta's Peru and Peruvian Diamond satisfy your appetite for fun!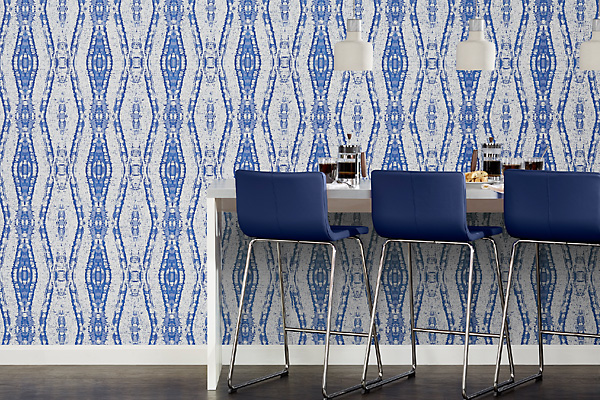 PERUVIAN DIAMOND
Cultural nuances and a playful spirit can be seen in Peruvian Diamond. This large-scale geometric features diamond shapes cascading vertically atop a nubby texture. Secret Blue, Majestic and Masquerade are some of the 9 hues the coordinate with Peru.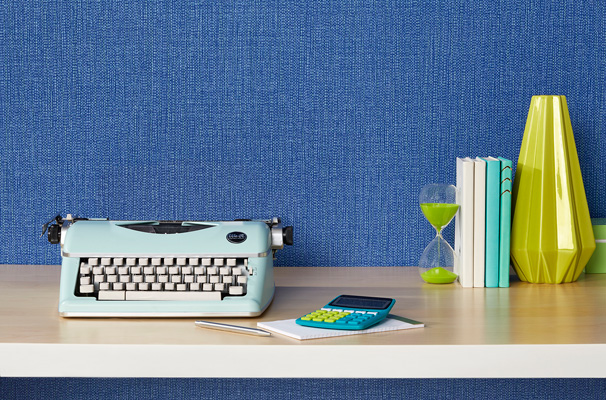 PERU
Peru showcases a worldly influence inspired by brightly colored handmade textiles. Color contrasts and vertical highlights promote textural effects throughout this chunky weave. Pop hues and contemporary neutrals, such as Wooly Llama, Lima Nights and Macho Picchu, have global appeal and pair with Peruvian Diamond. View swatches.
---
2017/01/30
Conjure your inner traveler with Boho Stripe, Free Spirit and Jet Set from Bolta Wallcovering.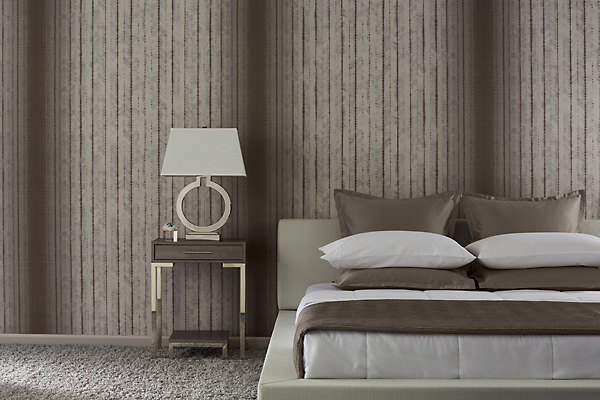 BOHO STRIPE
Sophisticated and soulful, Boho Stripe puts your spirit at rest. Color washed stripes with an indie, tie-dye influence appear across the full-width of this large-scale pattern. The handcrafted colors of Grass Roots, Midnight Hour and Sugar Magnolia round out the worldly palette.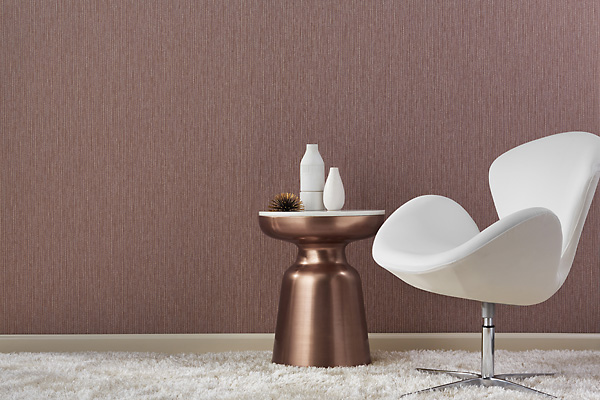 FREE SPIRIT
Free Spirit captures your independent nature. Free flowing metallic droplets meander down to form this stripe-like vertical design. Breezy Blue, Gone Green and Fresh Meadow are some of the 18 energetic colorways. View swatches.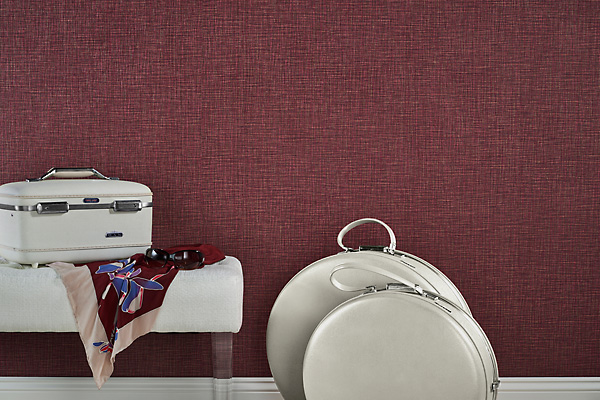 JET SET
Pick up and go with Jet Set. Vertical waves touched with metallic crisscross the globe in this bi-directional pattern. Layered with luxury, travel to unseen destinations with an elite assortment of 18 hues such as Eiffel Tower, Yacht Club and Charter Plane.
Explore the world with Boho Stripe, Free Spirt and Jet Set.
---
2016/09/15
Island inspired designs, Bali Grille, Bali and Driftwood, are added to the BOLTA wallcovering collection.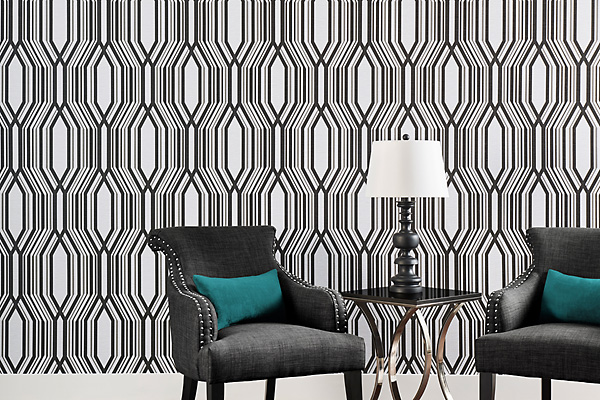 BALI GRILLE
Contemporary geometric meets tropical sophistication in Bali Grille. The dramatic bold graphic design overlays a chunky woven ground. A vivid palette of 13 hues including Orchid, Seaside and Hibiscus coordinates with Bali. View swatches.
BALI
Bali was inspired by an oasis escape. The larger entwined texture has a thatched effect that mimics grass skirts and tiki huts. Bamboo, Jackfruit and Sunfish are some of the 18 island-influenced colors that pair with Bali Grille. View swatches.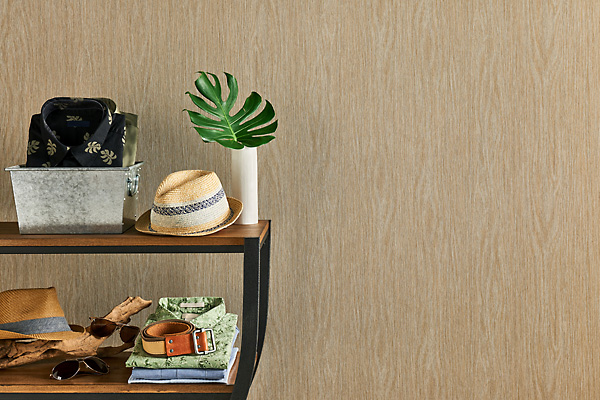 DRIFTWOOD
Carried in by the tide, Driftwood appears weathered from the elements. This unmistakable wood design features a full-width grain, accented with a white washed influence. Drifting on shore are 13 refined neutrals such as Teak, Cypress and Tamarind. View swatches.
Find your paradise with Bali Grille, Bali and Driftwood.
---
2016/06/30
Soho, Soho Underground and Strobe are added to the Bolta Wallcovering collection.
Bolta's newest introductions, Soho, Soho Underground and Strobe, captivate the artistic spirit of a metropolitan neighborhood.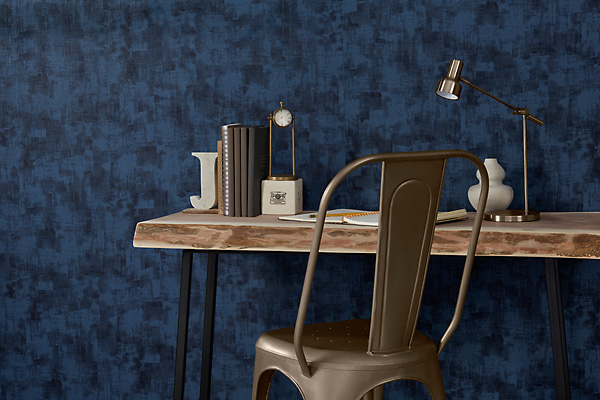 SOHO
Distressed industrial blends with a handcrafted plaster look in Bolta's Soho. This surprisingly subtle large-scale design layers color and texture to soften hard edges and create depth. Reclaimed hues including Subway Slate, Skyscraper Blue and Gallery Grey companion with Soho Underground. View swatches.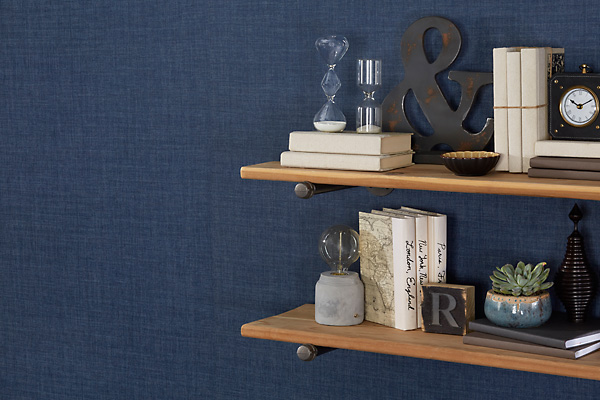 SOHO UNDERGROUND
Vintage linen gets a modern twist in Soho Underground by Bolta. Aged effects grace the classic pattern and showcase an eclectic kind of worn texture that is ever so chic. Boho Beige, Hugo Moss and Purple Pub round out the 25 color urban palette which pairs with Soho. View swatches.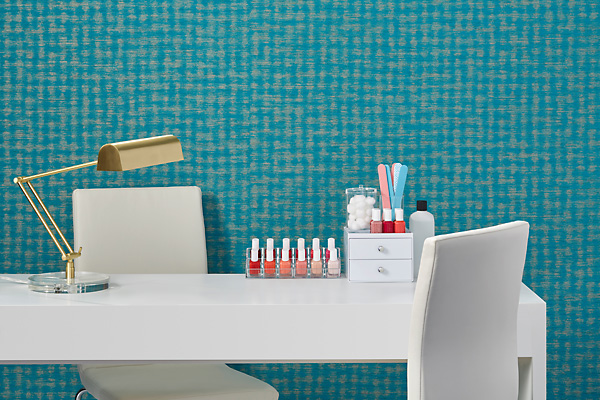 STROBE
Bolta's Strobe features a subdued optical design. This mid-scale pattern mimics whirling lights flashed on the dance floor. In the limelight are Beige Boogie, Dark Disco and Techno Tan. View swatches.
Soho, Soho Underground and Strobe- cosmopolitan effects at their best.
---
2015/05/19
Bolta debuts Intersect, Interweave and Birch.
Intersect, Interweave and Birch, Bolta's newest introductions were inspired by natural resources, water, twine, bark and their organic effects.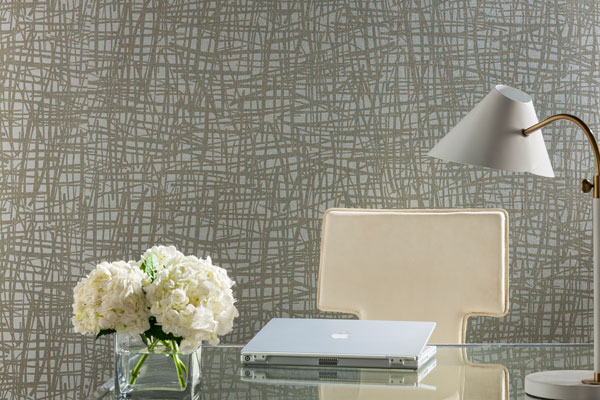 INTERSECT
Imagine gracefully-swiping a fog-filled mirror with playful strokes and you've described, Intersect. Beneath your mid-scale creation, a linen texture is revealed. Neutrals mix with deep colors across the 12 engaging hues. View swatches.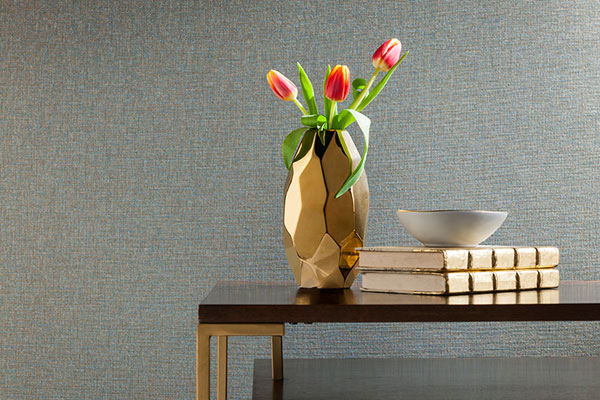 INTERWEAVE
The linen-look of Interweave features speckled color, woven with metallic. Refined nests inspired the interlacing texture of the thread-like strands. The soft twine design and extensive natural palette coordinates perfectly with its mid-scale companion, Intersect. View swatches.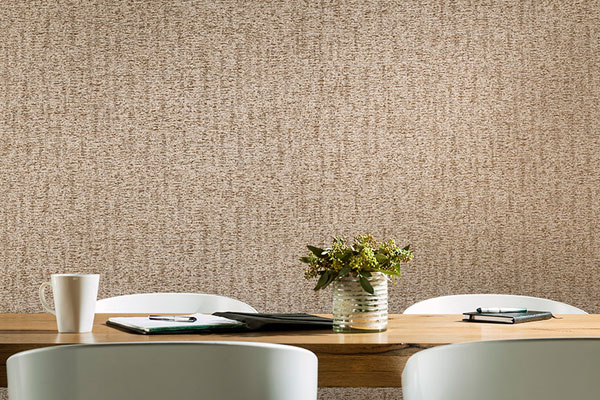 BIRCH
Birch, a new larger texture, resembles the satin grain of tree bark. The long horizontal lines combined with multicolor ripples create movement and dimension throughout the pattern. Earthy neutrals include Autumn, Forest, Maple and Woodland.
Intersect, Interweave and Birch.... be one with nature.
---
2015/04/07
Bolta introduces Shibori, Shibori Silk and Gilded...
Bolta's latest introductions of Shibori, Shibori Silk and Gilded have been inspired by opulent fabrics crafted in grand designs.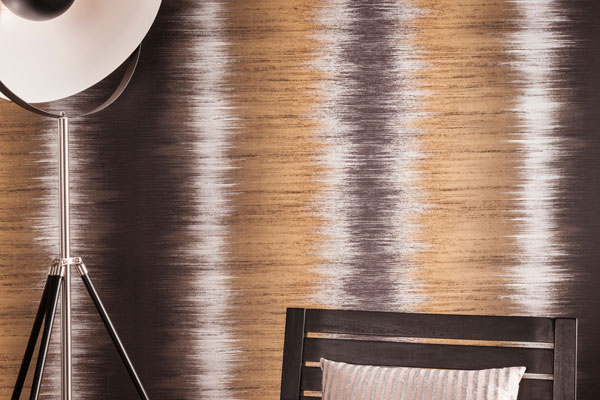 SHIBORI
Shibori, a striking large-scale introduction, mimics its ancient Japanese namesake. The infinite ways of binding, stitching, dyeing and twisting the fabric create dramatic visual effects, inherent to the art form. Multiple colors with soft blurred edges form the illusion of a three-dimensional moiré look...a modern movement within the pattern. View swatches.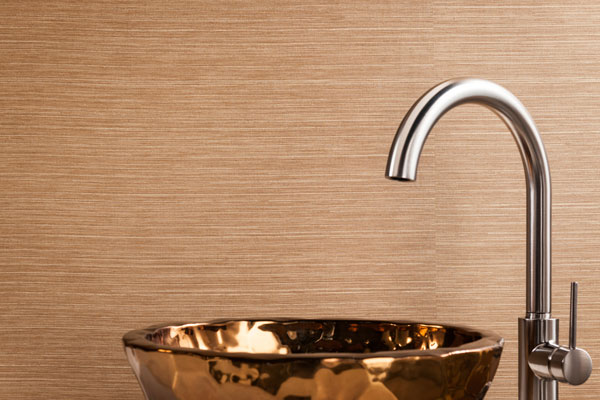 SHIBORI SILK
Shibori Silk is influenced by the 8th century Japanese method of dyeing fabric by complex twisting. Multiple thread-like strands are bound together harmonizing the nuance and texture of timeless silk. Touched with metallic, the luxurious hues coordinate perfectly with its statement companion, Shibori. View swatches.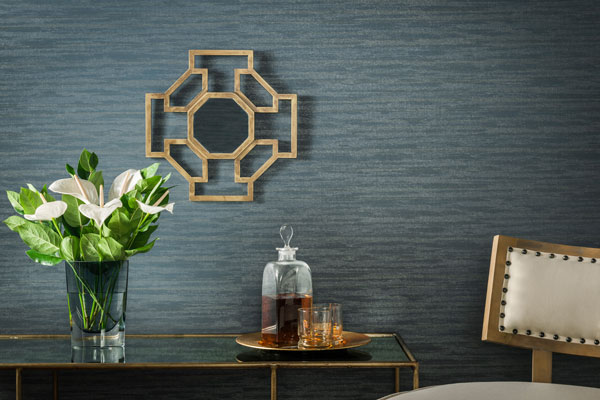 GILDED
Inspired by hand crafted materials, Gilded is crimped and gathered to resemble a graceful fabric. The metallic details horizontally glaze the surface as though painted by hand. A blend of inspiration and distinctive craftsmanship evoke the artisan spirit that creates Gilded.
Prepare to be memorized by the grandeur of Shibori, Shibori Silk and Gilded.
---
2014/08/10
Three new patterns, Watermark, Wave, Weathered are added to the BOLTA collection.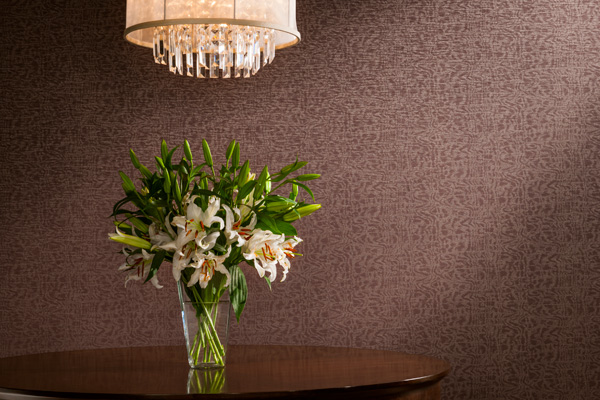 The sophisticated colors of Bolta's Watermark create a luxury that lends this mid-scale design to become the statement that drives a room or the backdrop that grounds it. The beautiful relationship between patten and texture lure you into the relaxing tide. Watermark has 9 rich colorways including Oxblood, Black Gold and Noir.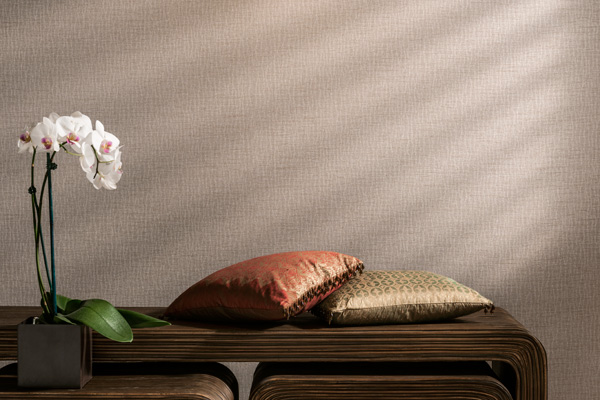 Bolta's Wave is like peering beneath the surface of the water and watching the sun's reflection play off the ripples. This subtle pattern offers 18 colors that all capture the glint of the sun with metallic highlights.
Bolta's Weathered, an ethereal stripe, references the passage of time as nature erodes its layers. Inspired by minerals and stones, Weathered's 12 colorways are subtle blends of hues that softly reveal a variegated stripe.
---
2014/08/01
Welcome to the new Bolta website!
Please visit this What's New section from time to time to learn about our new product introductions and latest developments. Thank you.